HIGH POWER FIBER COUPLED BLUE LASER SYSTEM UP TO 200W
ZEPHYRUS is a fiber coupled laser system able to deliver up to 200W CW @450nm in a 200µm optical fiber. The system up to 35W are also available in the 100um optical fiber version. It includes the ZEPHYRUS PLATFORM BLUE module, plus the laser driver, the cooling plate for water cooling and the optical fiber.
The latest laser for material processing
Thanks to the strong absorption of the BLUE 450nm radiation by the highly reflective materials used in the PCB manufacturing process – up to 20x compared to IR wavelengths – ZEPHYRUS is the state-of-the-art solution for soldering of THT and SMD components, depaneling and trimming. The high absorption grants lower power and time required to perform the job, as well as minimum unwanted back reflections from the solder pad, thus leading to a fast and safe process.
Advantages & Benefits
Valid substitute to state-of-the-art IR lasers: much lower power densities required for same processing
Round homogeneous spot on working area
Reduced thermal stress on solder pad
Minimum unwanted back reflections
Ease of integration
Very high processing speed
No consumables: expected lifetime > 30.000 hours
Applications
Soldering of THT and SMD components
Depaneling
Trimming
Welding of thin wires
Blue laser power scale ranging from 5W to 200W
Technical Specifications
Wavelength
450 nm
Wavelength range
440/460 nm
Output power fiber coup CW
5W
35W
50W
100W
200W
Fiber NA
0.22
Fiber core (min)*
100 um**
100 um
200 um
200 um
200 um
Fiber connector
FC / SMA
FC/D80
D80
D80
D80
Operating current
< 3.8A
Operating voltage (1 channel)
<5
<40
<30
<30
<30
N° of channels
1
1
2
4
8
Cooling
Air
Water
Water
Water
Water
Operating temperature***
+15/+30 °C
Storage temperature***
-20/+60 °C
Available or customizable
Options
Different fiber types
Coupling into scanning head
Fixed or variable focusing heads
Applications
Diagnostic
Sensing
Pumping
Dental
Physiotherapy
PCB soldering
Projection
Plastic welding
Pumping
Stereolithography
PCB soldering
Projection
Plastic welding
Pumping
Stereolithography
PCB soldering
PCB cutting
Projection
Plastic welding
Stereolithography
Soldering
Cutting
Projection
Welding
Stereolithography
Markets
Medical
Industrial
Defense
Electronics
Defense
3D printing
Electronics
Defense
3D printing
Electronics
Industrial
3D printing
Electronics
Industrial
Battery
*Optical fiber not included
**Special model 4W in 50um NA 0.12 fiber
***Not-condensing environment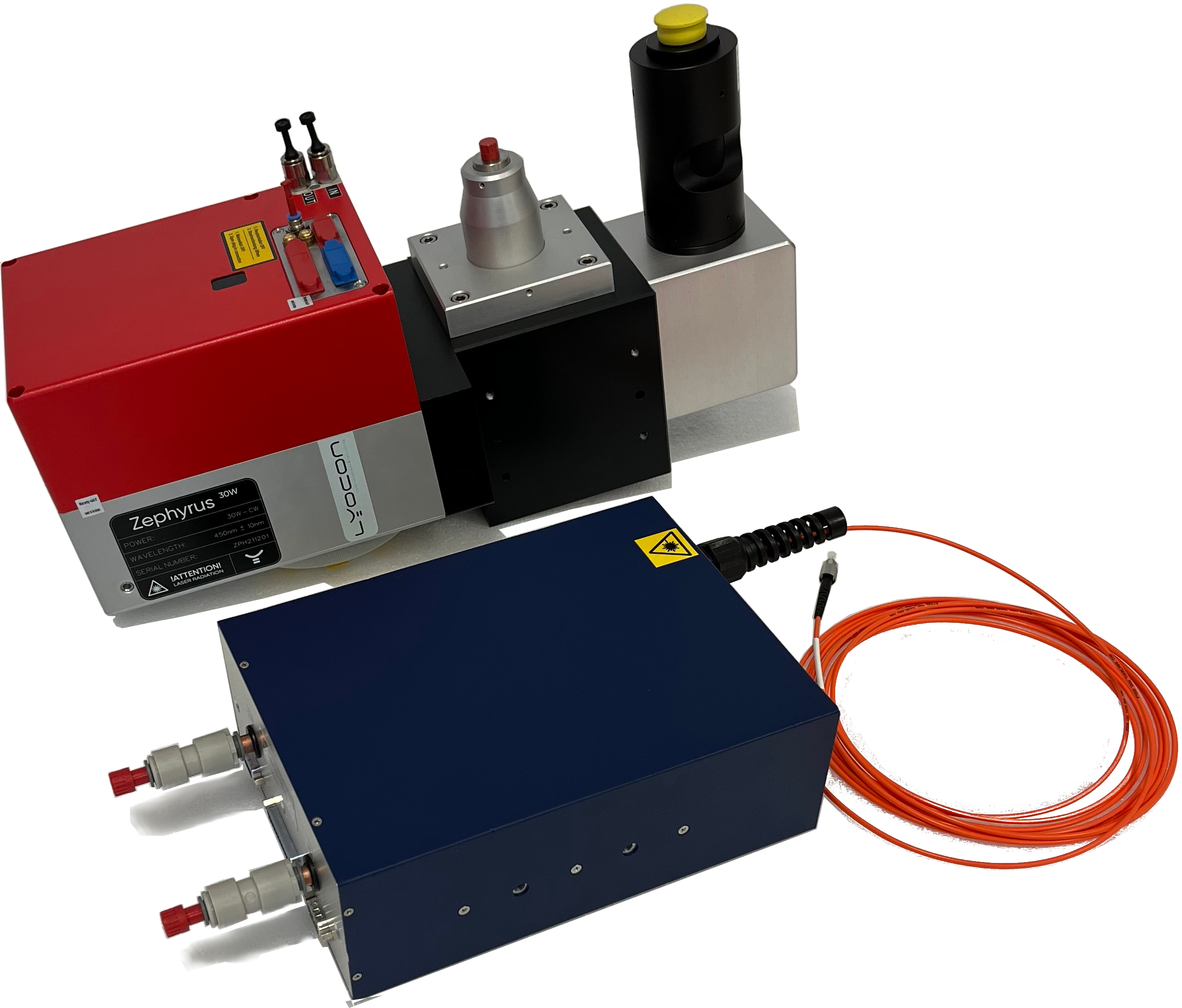 High power blue laser galvo system